Craniofacial deformity
Feature Summary
The computer-assisted surgery is to increase surgical precision, reduce operation time, facilitate minimally invasive approach, and ultimately, to improve overall surgical outcomes.
Overview
Craniofacial deformities are a diverse group of deformities in the craniofacial region, which may be resulted from congenital anomalies, oncological resection, and traumatic injuries. Depending on the region of deformity involved, the patients may manifest with unbalanced facial appearance (short or long jaw), poor oral function, abnormal eyeball position, loss of facial part...etc. The patients usually need a comprehensive surgical planning to correct the disharmony of face and to restore the missing parts of facial structures.
Features
The complex nature of the craniomaxillofacial structures challenges the surgeon's knowledge to anatomy, experience, and the perception toward surgical outcome. Computer-assisted surgery combined different techniques on virtual surgical planning, three-dimensional printing, and surgical navigation to correct the deformities in a more efficient and predictable way. This computer-assisted approach can widely apply in the following clinical scenario: orthognathic surgery, oral tumor resection and reconstruction, oral implantology, facial traumatic injuries and post-traumatic facial deformity.
Procedure
Several digital information is acquired for computer-assisted surgical planning. The digital image datasets are consisted of computed tomography (CT), cone-beam computed tomography (CBCT) magnetic resonance images (MRI), positron emission tomography (PET), 3D face scanning, and digital dental impression. Surgeons will plan the appropriate operation virtually based on that information. Then the plan will transfer to the operating theatre by generating customized surgical guides or patient specific implants via 3D printing technique. It could be also transferred by intra-operative real-time navigation.
Notification
Risk and complications
Same as the conventional procedures related to different disease entities. However, less complication rate may anticipate by precisely planning the approach and guiding by navigation and cutting jig during operation.
Estimated Cost
The procedure cost is about 106,000~1,006,500 USD, depends on the techniques and surgical procedures involved, prices are subject to change without prior notice, need to pay in accordance with the actual medical expenses.
Case 1. Mandibular deformity after tumor resection. Virtual planning followed by customized surgical guide fabrication precisely restore the mandible contour and maintain the condyle position.

Case 2. A case with left side orbital floor fracture from traumatic injury. Patient manifest with diplopia and enophthalmos. The orbital floor was reconstructed with Titanium mesh plate by 3D modeling technique and intra-operative navigation.

Case 3. A case with obstructive sleep apnea and skeletal class II malocclusion. Using computer assisted approach to correct the airway volume and facial profile.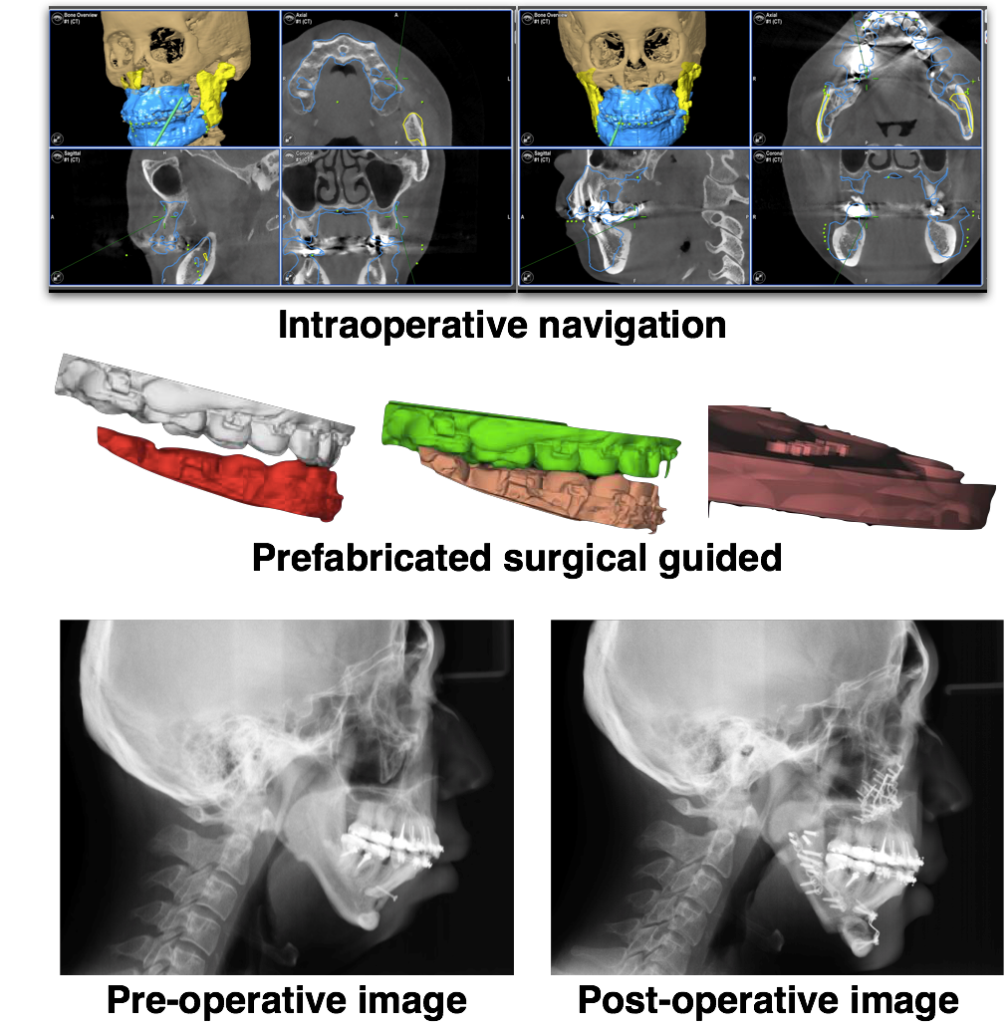 Case 4. A case with ameloblastoma of mandible. The mandible was resection and reconstruction with free fibular flap. Oral rehabilitation was finished with computer-assisted implant surgical guide fabrication.